Japan 1908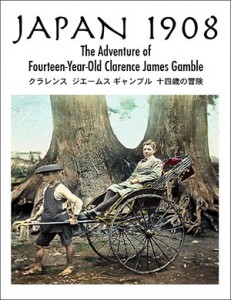 Japan 1908
The Adventure of Fourteen-Year-Old Clarence James Gamble
Order Japan 1908 now
Available in Hardcover at Amazon.com or at Bloomsbury Books in Ashland, OR
Available in Softcover at Create Space
With a birthday in January, Clarence James Gamble was just fourteen years old, when he, his seventeen year-old brother Sidney, and their parents, David and Mary Gamble, visited Japan for ten weeks in 1908. Probably parental oversight ensured that Clarence kept a daily journal of those ten weeks, but his adult flair for writing and his wicked sense of humor ensured that that daily journal is today a pleasure to read. Equally interesting today are the one-hundred-twenty photos taken by Clarence and Sidney, which round out the Japan journal. Through their contacts with missionaries,who were long-time Japan residents, the Gamble family glimpsed a Japan not available to the average tourist. Clarence's Journal and the brothers' vintage photos reflect this in-depth experience, giving us a glimpse into another world and time, a Japan as lived in 1908.

In 1908, David and Mary Gamble were building The Gamble House in Pasadena, California, now registered as a National Historic Landmark of America. Charles and Henry Greene, the architect brothers who designed The Gamble House, drew much inspiration from Japanese design elements, and The Gamble House is the foremost example of their work and of the Arts and Crafts Movement.The Gambles were in Japan not only to see as much of Japan as possible, but to shop for appointments of an Asian character for their new house.The one hundred and twenty photos taken by Clarence and Sidney and hand-tinted in Japan give us a sampling of what the Gambles saw during their ten-weeks in Japan in 1908.

"This book is mandatory–and delightful–reading for anyone interested in Japan, the American experience of Japan, and how many of our contemporary assumptions about Japan were shaped by tourist industry of a century ago. Miriam Reed has done a superlative job in clarifying the travel diary of fourteen-year-old James Gamble, and contextualizing the experiences of his illustrious family during their ten-week tour of Japan."
– Kendall Brown, Associate Professor

 Asian Art History, Art Department. 

California State University at Long Beach